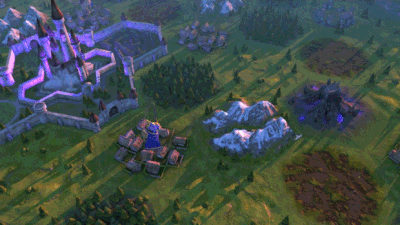 Navigable terrain and locations are divided up into hexes  (sometimes referred to as
tiles
). For all hexes except for mountains, all characters need to spend one
action point
to enter an adjacent hex. Different hex types can affect
combat
and exploration in a variety of different ways. Some
cards
can only target one type of hex. Maps are procedurally generated before the game begins on the basis of a computer algorithm. Due to this randomization, it is unlikely that you will ever have all hexes in the exact same position more than once.
Terrain hexes
Edit
Plains hexes have no effect on combat or stealth. The two hexes adjacent to each Clan Grounds are always guaranteed to be plains.
Swamp hexes inflict one wound to any character attempting to enter them. Banes and King's Guard are not affected.
Forest  hexes grant stealth to characters at night.
Mountain hexes grant one bonus shield in combat to any character standing on them, but they require 2 action points to traverse.
Location and destination hexes
Edit
Clan Grounds hexes are the starting points for each of the four players. Players will also respawn here when slain. Heroes may not be targeted by any effect of any kind nor be engaged in combat while standing in their Clan Ground (although they can attack any character adjacent to them). Other heroes cannot enter Clan Grounds that are not their own.
Dungeon hexes can be explored for loot, resources or followers. Heroes will automatically explore a dungeon when they move onto the hex. Rewards are not guaranteed, and banes will sometimes spawn from dungeons when explored, and they will also spawn spontaneously from dungeons at night.
Settlement hexes can be claimed for a hero's clan. Held settlements will provide gold income at dawn or dusk, and can provide healing when heroes remain in them. They can be taken over by other clans if left unguarded. Banes can terrorize settlements and immediately remove their affiliation. King's Guards will not change a settlement's loyalty.
Stone Circle hexes heal one wound when heroes enter them.
Palace Gardens hexes, adjacent to the Palace, begin the game housing deadly Palace Perils. Players will encounter a menu warning when first attempting to move onto one of these hexes. The northern garden challenges one's Fight stat, the southern garden challenges the Body stat, the eastern garden challenges the Spirit stat and the western garden challenges the Wits stat. King's Guards are not affected by Palace Perils and can freely move (and spawn) on these hexes, and banes cannot move onto these hexes.
The King's Palace hex is where the King of Armello resides. If a hero is able to take this hex, they will claim victory and the throne.
Ad blocker interference detected!
Wikia is a free-to-use site that makes money from advertising. We have a modified experience for viewers using ad blockers

Wikia is not accessible if you've made further modifications. Remove the custom ad blocker rule(s) and the page will load as expected.